Welcome to The Sea Glass Journal!
Welcome to The Sea Glass Journal, an online magazine for sea glass collectors, artisans and those who are just plain curious about sea glass. Learn more about the history of sea glass, some of the world's great glassing spots, craft and jewelry ideas, and from interviews with other sea glass lovers. Check back often as new articles are added regularly!
Have a question, comment or a story idea? Email us! Click Sea Glass Inquiry.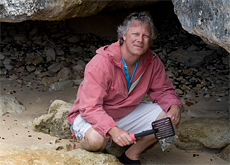 Bermuda has many small beaches and caves along the coast that contain sea glass.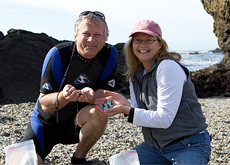 Glass Beach, in Fort Bragg, California, was once the town dump. Fortunately they stopped in 1969 and now it has become a destination for sea glass collectors.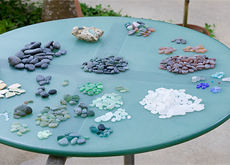 Some of the spoils after a short hunt on the island of Vieques, Puerto Rico.
A Sea Glasser's View
The perfect storm of sun, surf, sand, and the heady scent of saltwater creates my own personal bliss — especially when you throw a sparkling shard of sea glass into the mix.
These distinct elements have a common thread — a love of nature, of the coast, of fueling my creative drive, and the thrill of discovery. There's nothing better.
My name is Gary de Blois and I am a graphic designer, amateur photographer, budding jewelry maker, and a lifelong beachcomber. My sea glass collecting hobby weaves together all these passions.
I began sea glass collecting in my youth, spending summers on the coast while discovering my passion for beachcombing. Those zen moments spent strolling the beach, enjoying the sights, sounds and scent of the ocean... ahhhh... tonic for the soul. Finding sea glass, in its myriad of shapes and colors, was like treasure hunting to me. At days end I would bring these beachy gems home, placing them in jars as keepsakes, colorful reminders of all the fun times spent playing in the sand.
Now I explore the coastal regions of the US as well as the world for sea glass. I collect it, photograph it and I make jewelry and other whimsical objects with it. I use only genuine sea glass in my work, collected by me or my sea glass collecting cohorts.
To sea glass collectors worldwide – enjoy the journey!
Gary de Blois
Bristol, Rhode Island
Past Board Member, North American Sea Glass Association,
2007-2010
Commercial Member, North American Sea Glass Association,
2007-Present