What Is Sea Glass?
An introductory explanation of sea glass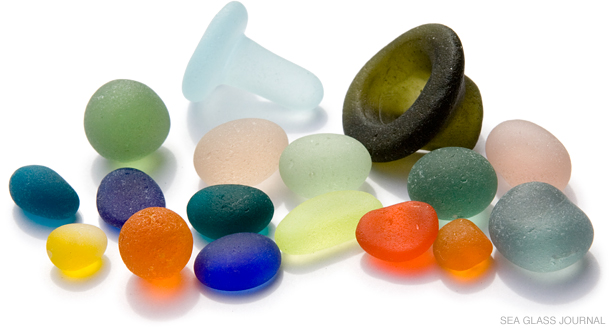 Examples of colorful and rare sea glass found on beaches around the world.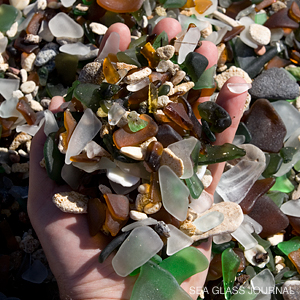 Some beaches that were local dumps at one time, like this one in Bermuda, can produce bountiful amounts of sea glass.
Sea glass, also called beach glass, is any glass that has eventually found its way to a body of water that has a sufficient combination of surf, sand and stone to naturally tumble smooth and frost the shard into a genuine sea glass gem.
Where does sea glass comes from?
Most often sea glass originates from glass products that have outlived their usefullness and were thrown away. It may have come from people tossing empty bottles against the rocks along a stretch of beach. It may also have originated from a dump located near the coast where the debris has spilled into the surf. Glass thrown overboard from boats in shipping lanes, marinas or areas of commerce can also be a source of sea glass.
Story continues below...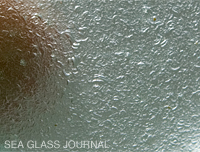 As this close-up demonstrates, sea glass usually acquires "C-shaped" pits on its surface of varying sizes and orientation.

The glass shards, being exposed to varying degrees of surf, tides and current, will move over the sand, pebbles and small rock. Sometimes shards will be lodged into an area of the coast where the sand and pebbles will move over them. Either way, the sand and rock act as varying grits of sandpaper to smooth out the rough edges of the sea glass. Over time, there will no longer be any sharp and shiny edges. Sea glass of this nature is considered to be well-conditioned, baked or cooked.
Sea glass requires a sufficient combination of surf, sand and stone to tumble smooth and frost the glass.
Sea glass also acquires a frosty, pitted patina. This is due to exposure to water with a higher than average pH value. The alkaline nature of the water will affect the surface of the glass which leads to the "C-shaped" g and frost often associated with sea glass. In different coastal local around the world with varying degrees of pH the sea glass will have more or less frost associated with it.
Sea glass colors
Sea glass comes in many colors, determined by the original source of the glass. Some colors are more valued and rarer than other colors. Cobalt blue or a deep aqua are very desirable colors by the sea glass collector. Other colors, like cherry red and yellow, are much rarer to find due to the lower glass production in those colors.
For the discriminating sea glass collector any shard that hasn't been sufficiently conditioned and frosted, that still retains translucent sides and/or chipped edges, is not considered sea glass worth keeping — even if it is of a rare color. This beachcomber will toss the shard back into the ocean to allow nature more time to work its magic. Then perhaps another fortunate sea glass hunter in the future may find it.