Sea Glass Craft Ideas
Here you will find sea glass craft how-to tutorials for fun and creative projects using your sea glass collection.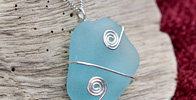 With a few basic wire wrapping tools, some wire of your choice and a piece of sea glass that you have found, create a simple piece of jewelry that will certainly garner attention from your friends.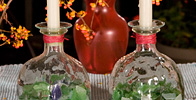 Instead of putting your sea glass into a jar to place in the window box, try making a sea glass candle holder that will add a colorful accent and illuminate the room.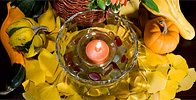 For this Thanksgiving or Fall centerpiece try a candle holder that accents your Autumn sea glass colors.