See LARGER IMAGE
Sea Glass Photo of the Week
A Fine Wine Topper?
Caroline, Bahamas: I found this in the water diving off of a lil' island called Meek's Patch off of Eleuthera, Bahamas. I was looking for marbels and a little bit of it was sticking out of the sand. When I pulled it out I was like "Yes! Wow!" I was soooooooooo happy! I could not belive it was not broken and I could not stop looking at it!
Journal: That's a fine specimen and not your average find when looking for sea glass Caroline. It appears to be the finial from a two-toned stopper to a wine or liquor decanter.
There's not much we can think of that's better than swimming in the Bahamas and discovering such a wonderful piece of sea glass!

Take a look at some of the other fantastic photos submitted by clicking Weekly Sea Glass Photos.
Have a sea glass photo you would like to submit? Click Photo Submissions for details.


sea glass in the news

Posted October 29th, 2014
2014 Santa Cruz Sea Glass & Ocean Art Festival!
The 6th Anniversary 2014 Festival dates are November 8th & 9th, 2014, again at the fabulous Cocoanut Grove. Mark your calendars!
For up-to-date details and more info visit 2014 Sea Glass & Ocean Art Festival on FaceBook.


Notice: The news section of our site is being moved to our Facebook page to better deliver late-breaking news and information relevant to sea glass collecting.
Keep up-to-date on all things sea glass... like us on Facebook!
Sea Glass News on Facebook.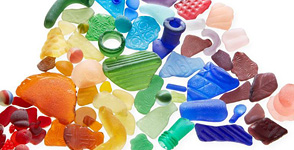 The Sea Glass Center wants to create a traveling sea glass museum but they need your help.
For the month of October we look at an exotic mushroom-shaped sea glass remnant found in the Santa Cruz, California area.


Sea Glass Pendant
For a sea glass jewelry idea try a simple wire wrap pendant.

Find out what's happening! Here's a list of the scheduled sea glass festivals and events for 2012.
shopping
Pendants, earrings, bracelets and more using 100% genuine sea glass.
T-shirts with various designs stating your passion for sea glass.

The travel section of the Sea Glass Journal.

Recent: Prince Edward Island Sea Glass
Check out all the sea glass festivals that have been submitted to the Sea Glass Journal.

NASGA 2011 Festival
The sixth annual North American Sea Glass Festival, Long Branch, NJ.

Downloadable photos for use as wallpaper (desktop photo) on your computer.

Recent: Royal Ruby Red Sea Glass