Sea Glass Photo of the Week
Searching for lost treasure
A special submission
Somewhere out there – maybe Orlando, possibly Zurich, but really just about anywhere – there is a necklace that probably means little to the person wearing it, but means the world to one Farmington woman.
Now, with the help of a friend and modern media, that woman hopes to get it back.
Read the full story in the article Lost Sea Glass Treasure within the Farmington Independent.

Take a look at some of the other fantastic photos submitted by clicking Weekly Sea Glass Photos.
Have a sea glass photo you would like to submit? Click Photo Submissions for details.


sea glass in the news

Posted January 12, 2015
2015 Northeast Sea Glass Expo!
Come and enjoy natural sea glass, heart stones and other beach-combed creations at beautiful Hampton Beach in New Hampshire. Located only 45 minutes from Boston, MA and 60 minutes from Portland, ME!
Vendor information or general information email Sea Glass Luv.
For up-to-date details and more info visit The Northeast Sea Glass Expo Facebook page.

Posted January 5, 2015
Save the Date!
The Great Lakes Beach Glass & Ocean Arts Festival will skip a year and will resume in 2016 at the Bayfront Convention Center with a date change. It will now be held on the weekend of April 30th & May 1st, 2016.
For up-to-date details and more info visit Great Lakes Festival.


Posted January 5, 2015
2015 Mermaid Tears Sea Glass Festival
The 7th Annual Mermaid Tears Sea Glass Festival, held on Sat & Sun, July 25th & 26th, 2015, celebrates Sea Glass AKA Mermaid Tears. The festival is now being held in the scenic community of Souris, in Eastern Prince Edward Island, Canada.
For up-to-date details and more info visit Mermaid Tears Sea Glass Festival.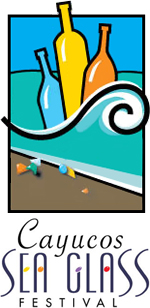 Posted December 18th, 2014
2015 Cayucos Sea Glass Festival!
Sea Glass Journal and Just Beachy Keen will be attending the 5th Annual Cayucos Sea Glass Festival, March 14th & 15th, 2015. Mark your calendars!
For up-to-date details and more info visit Cayucos Sea Glass Festival.


Notice: The news section of our site is being moved to our Facebook page to better deliver late-breaking news and information relevant to sea glass collecting.
Keep up-to-date on all things sea glass... like us on Facebook!
Sea Glass News on Facebook.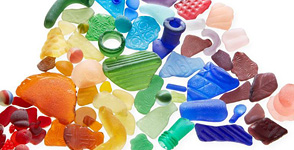 The Sea Glass Center wants to create a traveling sea glass museum but they need your help.
The month of December features a soft yellow segment from an old pattern glassware.


Sea Glass Pendant
For a sea glass jewelry idea try a simple wire wrap pendant.

Find out what's happening! Here's a list of the scheduled sea glass festivals and events for 2012.
shopping
Pendants, earrings, bracelets and more using 100% genuine sea glass.
T-shirts with various designs stating your passion for sea glass.

The travel section of the Sea Glass Journal.

Recent: Prince Edward Island Sea Glass
Check out all the sea glass festivals that have been submitted to the Sea Glass Journal.

NASGA 2011 Festival
The sixth annual North American Sea Glass Festival, Long Branch, NJ.

Downloadable photos for use as wallpaper (desktop photo) on your computer.

Recent: Royal Ruby Red Sea Glass