Sea Glass Photo of the Week
The National Festival is Nigh!
The 2016 North American Sea Glass Association Sea Glass Festival is this weekend! Like last year, it will be in Ocean City, MD at the Roland E. Powell Convention Center, Aug 26 & 27.
Thousands of sea glass enthusiasts from around the world will converge on the festival to celebrate the joys of collecting sea glass.
Along with over 50 sea glass artisans, the festival will hold lectures, have shard identification booths, a collectors' area and the well-known "Shard-of-the-Year" contest with cash prizes in several categories.
Whether you are a seasoned sea glass collector or just curious about sea glass, this is a "must-see" event!
For up-to-date details and more info visit NASGA Sea Glass Festival.
We hope to see you there!

View some of the past photos submitted by the sea glass community... click Weekly Sea Glass Photos.
Have a sea glass photo you would like to submit? Click Photo Submissions for photo requirements and details.



Keep up-to-date on all the late-breaking news and information relevant to sea glass collecting – like us on Facebook... Sea Glass News!


Posted June 8th, 2016
2nd Annual Misquamicut Sea Glass Festival
Join us for the 2nd Annual Misquamicut Sea Glass Festival on beautiful Misquamicut Beach in Westerly, RI. Sea glass and beach themed artisans and retailers will be selling their items at the Windjammer Surf Bar by the ocean.
Here's a link to the vendor application: Misquamicut Festival Vendor Application.


Posted June 8th, 2016
A Dose of Vitamin Sea - Sea Glass Festival & Exhibit
A Dose of Vitamin Sea will be held at the Jersey Shore for the second year. Located in the heart of Point Pleasant Beach, NJ, where you can walk the Jenkinson's Boardwalk and enjoy the salty ocean air while viewing fireworks at dusk. We have a fun filled day which includes sea glass vendors who will be selling their sea inspired art, books for children, a sea glass contest with prizes and two guest speakers.
For up-to-date info click A Dose of Vitamin Sea.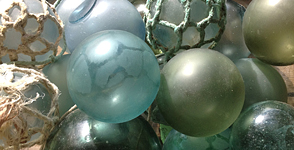 Read about the history, where to find them, and more about these wonderful glass orbs from the sea!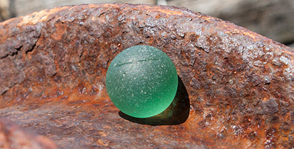 This month we'll take a look at a special kind of glass marble often found along railroad tracks and is commonly referred to as a railroad marble.


Sea Glass Pendant
For a sea glass jewelry idea try a simple wire wrap pendant.

Find out what's happening! Here's a list of the scheduled sea glass festivals and events for 2012.
shopping
Pendants, earrings, bracelets and more using 100% genuine sea glass.
T-shirts with various designs stating your passion for sea glass.

The travel section of the Sea Glass Journal.

Recent: Prince Edward Island Sea Glass
Check out all the sea glass festivals that have been submitted to the Sea Glass Journal.

NASGA 2011 Festival
The sixth annual North American Sea Glass Festival, Long Branch, NJ.

Downloadable photos for use as wallpaper (desktop photo) on your computer.

Recent: Royal Ruby Red Sea Glass