See LARGER IMAGE
Sea Glass Photo of the Week
A treasure from the island of Rhodes, Greece
Gina Argyrou - Greece While walking along a small little port cove beach, that I just discovered last year, I found this pretty perfectly frosted lavender topper! Most probably once part of a candy dish. It was a thrill to find this treasure on my little beach on the Greek pebble of Rhodes.
This beach, called Cova, has a big water tunnel from a river that runs out to the Aegean Sea and that is where all the pieces of glass, pottery and ceramics turn up in the sea.
Journal: That's a beautiful find Gina! It looks like it may have been a finial from a glass cover, possibly from a candy dish like you guessed. It's wonderful to hear from someone on the other side of the world. Thanks for sharing!

View some of the past photos submitted by the sea glass community... click Weekly Sea Glass Photos.
Have a sea glass photo you would like to submit? Click Photo Submissions for details.


sea glass in the news

Posted May 21st, 2015
1st Annual Misquamicut Sea Glass Festival
Join us for the first annual Misquamicut Sea Glass Festival on beautiful Misquamicut Beach in Westerly, RI. Sea glass and beach themed artisans and retailers will be selling their items at the Windjammer Surf Bar by the ocean.
More details to come.


Notice: The news section of our site is being moved to our Facebook page to better deliver late-breaking news and information relevant to sea glass collecting.
Keep up-to-date on all things sea glass... like us on Facebook!
Sea Glass News on Facebook.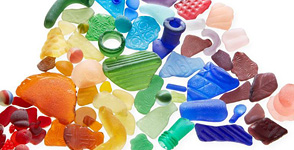 The Sea Glass Center wants to create a traveling sea glass museum but they need your help.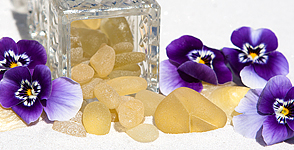 April showers bring May flowers and the featured sea glass for May – a soft yellow segment from an old pattern glassware.


Sea Glass Pendant
For a sea glass jewelry idea try a simple wire wrap pendant.

Find out what's happening! Here's a list of the scheduled sea glass festivals and events for 2012.
shopping
Pendants, earrings, bracelets and more using 100% genuine sea glass.
T-shirts with various designs stating your passion for sea glass.

The travel section of the Sea Glass Journal.

Recent: Prince Edward Island Sea Glass
Check out all the sea glass festivals that have been submitted to the Sea Glass Journal.

NASGA 2011 Festival
The sixth annual North American Sea Glass Festival, Long Branch, NJ.

Downloadable photos for use as wallpaper (desktop photo) on your computer.

Recent: Royal Ruby Red Sea Glass