See LARGER IMAGE
Sea Glass Photo of the Week
Collector's Paradise
Lindy Kosydar: On a recent trip to Puerto Rico, my partner and I who are avid sea glass hunters were lucky enough to find these treasures. All in all we came home with over 50lbs of sea glass from both San Juan and Rincon. It was truly a sea glass hunters paradise.
Journal: It looks like you had a successful treasure hunt Lindy! Puerto Rico can truly be a collectors paradise!

Take a look at some of the other fantastic photos submitted by clicking Weekly Sea Glass Photos.
Have a sea glass photo you would like to submit? Click Photo Submissions for details.


sea glass in the news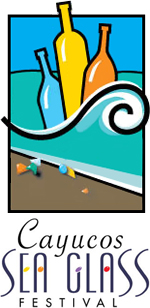 Posted December 18th, 2014
2015 Cayucos Sea Glass Festival!
Sea Glass Journal and Just Beachy Keen will be attending the 5th Annual Cayucos Sea Glass Festival, March 14th & 15th, 2015. Mark your calendars!
For up-to-date details and more info visit Cayucos Sea Glass Festival.


Notice: The news section of our site is being moved to our Facebook page to better deliver late-breaking news and information relevant to sea glass collecting.
Keep up-to-date on all things sea glass... like us on Facebook!
Sea Glass News on Facebook.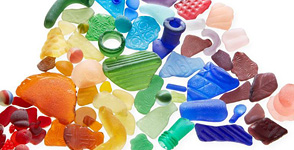 The Sea Glass Center wants to create a traveling sea glass museum but they need your help.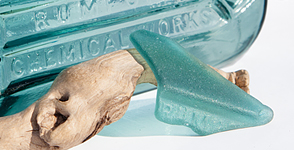 The month of November features an old teal-colored Rumford Chemical Works bottle shard found on the shores of Rhode Island.


Sea Glass Pendant
For a sea glass jewelry idea try a simple wire wrap pendant.

Find out what's happening! Here's a list of the scheduled sea glass festivals and events for 2012.
shopping
Pendants, earrings, bracelets and more using 100% genuine sea glass.
T-shirts with various designs stating your passion for sea glass.

The travel section of the Sea Glass Journal.

Recent: Prince Edward Island Sea Glass
Check out all the sea glass festivals that have been submitted to the Sea Glass Journal.

NASGA 2011 Festival
The sixth annual North American Sea Glass Festival, Long Branch, NJ.

Downloadable photos for use as wallpaper (desktop photo) on your computer.

Recent: Royal Ruby Red Sea Glass