See LARGER IMAGE
Sea Glass Photo of the Week
Mystery Solved!
Linda, Canada: I have only been collecting for a few months on beaches in New Brunswick, on Canada's East Coast. Recently my daughter and I visited a small beach in the area. There was so much glass that it was hard to decide what to keep. A gentleman from the area told me that up until 50 years ago this was a dump site. So I guess that's why there is so much getting washed up.
Most were pretty standard greens and browns. As we walked I noticed what looked like a round rock partially buried but not wanting to assume, I picked it up. I realized it was not a rock but a very puzzling piece of glass.
Later I showed it to a friend who has been collecting for many years and she had a couple of suggestions but had not seen a piece like it before.
This week my daughter sent me the link to your site showing the torpedo bottles and said this looks like what you found. Since I thought so too I decided to send you some pics.
Journal: Hi Linda! Lucky you! One amusing aspect of sea glass collectors is that we prefer to find an old, coastal dump to explore rather than sunbathing on a pristine beach!
Looking at the photos you sent, right off we can determine that it is an old piece of black glass. It looks to be a very dark olive green specimen, possibly from the 1800s. It does seem at first blush to have the rounded bottom common to a torpedo bottle (Torpedo Bottles) but after closer inspection we can rule that possibility out.
First and foremost, torpedo bottle bottoms are very thick at the tip and we can see that your specimen gets thinner in the center. Your find actually has all the markings of a kick-up from the bottom of an old bottle and what you first thought was the outside was actually the inside of the bottle.
Many sea glass kick-ups will have a little rounded bump in the middle referred to as a mamelon, caused by a metal rod with a concave tip. Your bottle bottom appears to have been pushed up with a rounded tipped rod. You can read more about kick-ups by clicking Sea Glass Kickups.
Thanks for sharing your unusual sea glass find!

Take a look at some of the other fantastic photos submitted by clicking Weekly Sea Glass Photos.
Have a sea glass photo you would like to submit? Click Photo Submissions for details.


sea glass in the news

Posted August 23rd, 2014
NASGA Sea Glass Festival 2014!
The 2014 NASGA Sea Glass will be held in Cape May, NJ on the weekend of September 27 & 28. It should be a grand time for all sea glass enthusiasts!
See a slideshow of last year's festival in Virginia Beach along with other sea glass festivals by clicking Sea Glass Slideshows.


Notice: The news section of our site is being moved to our Facebook page to better deliver late-breaking news and information relevant to sea glass collecting.
Keep up-to-date on all things sea glass... like us on Facebook!
Sea Glass News on Facebook.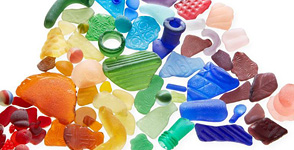 The Sea Glass Center wants to create a traveling sea glass museum but they need your help.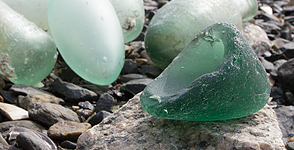 For the month of August we will look into the history of an unusual sea glass shard from a torpedo bottle produced in the middle half of the 19th Century.


Sea Glass Pendant
For a sea glass jewelry idea try a simple wire wrap pendant.

Find out what's happening! Here's a list of the scheduled sea glass festivals and events for 2012.
shopping
Pendants, earrings, bracelets and more using 100% genuine sea glass.
T-shirts with various designs stating your passion for sea glass.

The travel section of the Sea Glass Journal.

Recent: Prince Edward Island Sea Glass
Check out all the sea glass festivals that have been submitted to the Sea Glass Journal.

NASGA 2011 Festival
The sixth annual North American Sea Glass Festival, Long Branch, NJ.

Downloadable photos for use as wallpaper (desktop photo) on your computer.

Recent: Royal Ruby Red Sea Glass