See LARGER IMAGE
Sea Glass Photo of the Week
Purple Passion!
Mary T, Maryland: While kayaking on the Chesapeake Bay I came upon this purple sea glass, found "peeking out" from under the melting snow.
I hope the groundhog was right, because I'm ready for spring!
Journal: I think just about all of us are ready for spring Mary! But it is nice to know that we can find enjoyment collecting sea glass... even in the dead of winter.
Thanks for sharing!
Want to share your thoughts on this submission? Leave a comment on the Journal's FaceBook Page!

View some of the past photos submitted by the sea glass community... click Weekly Sea Glass Photos.
Have a sea glass photo you would like to submit? Click Photo Submissions for photo requirements and details.



Posted February 2nd, 2016
2nd Annual Sea Glass and Ocean Gems Symposium
You are invited to the Barrier Island Center's second Sea Glass and Ocean Gems Symposium on Saturday, February 20th, 2016 from 10 am to 4 pm. The symposium will be free to the public and include beach combing talks all day, guided beach walks, sharing table, craft demos, educational displays, kids' crafts table, beach-themed crafters, art raffle to benefit Sea Turtle Conservancy, a judged sea glass competition, live music, food trucks, and more!
For up-to-date details and more info visit the Brevard County Barrier Island Center FaceBook page.


Notice: The news section of our site is being moved to our Facebook page to better deliver late-breaking news and information relevant to sea glass collecting.
Keep up-to-date on all things sea glass... like us on Facebook!
Sea Glass News on Facebook.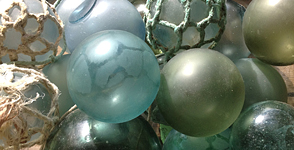 Read about the history, where to find them, and more about these wonderful glass orbs from the sea!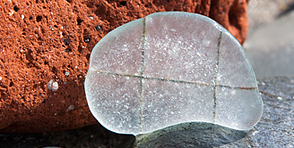 For February we'll be taking a look at safety glass which produces a unique and very recognizable type of sea glass.


Sea Glass Pendant
For a sea glass jewelry idea try a simple wire wrap pendant.

Find out what's happening! Here's a list of the scheduled sea glass festivals and events for 2012.
shopping
Pendants, earrings, bracelets and more using 100% genuine sea glass.
T-shirts with various designs stating your passion for sea glass.

The travel section of the Sea Glass Journal.

Recent: Prince Edward Island Sea Glass
Check out all the sea glass festivals that have been submitted to the Sea Glass Journal.

NASGA 2011 Festival
The sixth annual North American Sea Glass Festival, Long Branch, NJ.

Downloadable photos for use as wallpaper (desktop photo) on your computer.

Recent: Royal Ruby Red Sea Glass