See LARGER IMAGE
Sea Glass Photo of the Week
Happy to Have the Blues!
Michael, 10 years old from PA, spent most of his spring break from 4th grade visiting his uncle in Bristol, RI and looking for sea glass with his brother and a freind. After completing the Cliff Walk in Newport, Michael wanted to search for some sea glass along the beaches. After about 45 minutes of collecting sea glass we were about to call it quits when Michael asked for just a couple more minutes. This is when he spotted the "find" of his trip, a cobal bluet sea glass marble perfectly rounded. He first thought it was a small rubber ball and was going to bounce test it against the rock, but thankfully he realized this was not a rubber ball, it was some type of glass.
Michael plans to carefully transport the piece of glass back to PA where he will come up with a safe place to display it, and have it as a great memory of the spending his vacation in RI with his parents, his brother, his friend, his uncle, and his big black labrador retriever.
Journal: What a find for Michael... and in my own back yard! That is one beauty of a cobalt blue shooter marble. Most collectors can search a lifetime and not find such a wonderful specimen. I have no doubt it will be one of the premier gems of his collection.
And we are extremely happy that Michael decided not to bounce his find against a rock to see if it was a rubber ball! That would certainly have given him the blues!

Take a look at some of the other fantastic photos submitted by clicking Weekly Sea Glass Photos.
Have a sea glass photo you would like to submit? Click Photo Submissions for details.


sea glass in the news

Notice: The news section of our site is being moved to our Facebook page to better deliver late-breaking news and information relevant to sea glass collecting.
Keep up-to-date on all things sea glass... like us on Facebook!
Sea Glass News on Facebook.


Posted April 7th, 2014
Santa Cruz Vendor Application Now Available
The Santa Cruz Sea Glass Festival vendor application is now available for download at Santa Cruz Vendor Application.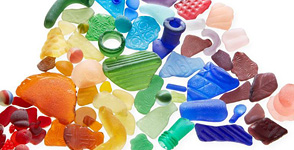 The Sea Glass Center wants to create a traveling sea glass museum but they need your help.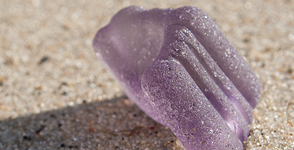 For the month of March we will look at a very unusual sea glass specimen found in a coastal tip in the southeast of England.


Sea Glass Pendant
For a sea glass jewelry idea try a simple wire wrap pendant.

Find out what's happening! Here's a list of the scheduled sea glass festivals and events for 2012.
shopping
Pendants, earrings, bracelets and more using 100% genuine sea glass.
T-shirts with various designs stating your passion for sea glass.

The travel section of the Sea Glass Journal.

Recent: Prince Edward Island Sea Glass
Check out all the sea glass festivals that have been submitted to the Sea Glass Journal.

NASGA 2011 Festival
The sixth annual North American Sea Glass Festival, Long Branch, NJ.

Downloadable photos for use as wallpaper (desktop photo) on your computer.

Recent: Royal Ruby Red Sea Glass