See LARGER IMAGE
Sea Glass Photo of the Week
A Puzzling Prize!
Susan Cox, MI: I found this piece of beach glass this summer here in Marquette, Michigan on the shore of Lake Superior. I'm not sure what it is but it looks like a bottle top of some type of decanter. It's quite a large piece of beach glass measuring 1-1/4 inches across. What a surprise to see this beauty shimmering in the sand that day!
Journal: That's an interesting find Susan! It's difficult to tell with just the one photo but it could be the top (or bottom) of a clear glass bottle but I suspect it may be something else. One tactic I employ when I'm stumped is to take the piece to a few antique dealers to see if any of them can identify it.
If you happen to get it identified please let us know. Thanks for sharing!

Take a look at some of the other fantastic photos submitted by clicking Weekly Sea Glass Photos.
Have a sea glass photo you would like to submit? Click Photo Submissions for details.


sea glass in the news

Notice: The news section of our site is being moved to our Facebook page to better deliver late-breaking news and information relevant to sea glass collecting.
Keep up-to-date on all things sea glass... like us on Facebook!
Sea Glass News on Facebook.


Posted April 7th, 2014
Santa Cruz Vendor Application Now Available
The Santa Cruz Sea Glass Festival vendor application is now available for download at Santa Cruz Vendor Application.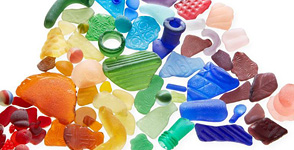 The Sea Glass Center wants to create a traveling sea glass museum but they need your help.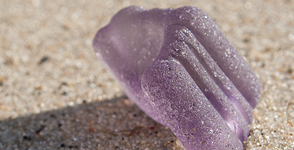 For the month of March we will look at a very unusual sea glass specimen found in a coastal tip in the southeast of England.


Sea Glass Pendant
For a sea glass jewelry idea try a simple wire wrap pendant.

Find out what's happening! Here's a list of the scheduled sea glass festivals and events for 2012.
shopping
Pendants, earrings, bracelets and more using 100% genuine sea glass.
T-shirts with various designs stating your passion for sea glass.

The travel section of the Sea Glass Journal.

Recent: Prince Edward Island Sea Glass
Check out all the sea glass festivals that have been submitted to the Sea Glass Journal.

NASGA 2011 Festival
The sixth annual North American Sea Glass Festival, Long Branch, NJ.

Downloadable photos for use as wallpaper (desktop photo) on your computer.

Recent: Royal Ruby Red Sea Glass