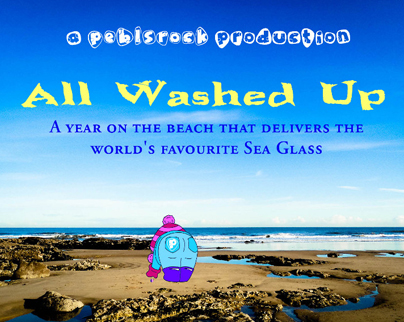 A Kickstarter Project:
A DVD documentary of sea glass around Seaham, England
Paula Newman: After receiving many inquiries about Seaham – the beach, the glass, the history, I've decided that it would be fun to make a documentary that gave people a full Seaham experience.
We started filming late last summer, and decided to do justice to this project by running a Kickstarter project to help raise the small amount needed to finish and produce a more professional DVD of the finished film.
Visit their Kickstarter page for photos and info... All Washed Up.

Take a look at some of the other fantastic photos submitted by clicking Weekly Sea Glass Photos.
Have a sea glass photo you would like to submit? Click Photo Submissions for details.


sea glass in the news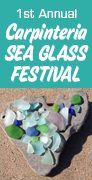 Posted April 3rd, 2015
1st Annual Carpinteria Sea Glass Festival
Join them for the first annual Carpinteria Sea Glass Festival in beautiful Carpinteria, CA. Home to the "world's safest beach", the quaint seaside town of Carpinteria is nestled between the Santa Ynez Mountains, the Pacific Ocean, Ventura, and Santa Barbara.
The event promoters are now seeking vendors for this show. For up-to-date details and more info visit 2015 Carpinteria Sea Glass Festival.


Posted April 3rd, 2015
6th Annual International Beachcombing Conference
Relax and have fun learning more about what you find on the shore. Coastal authors, artists, historians, geologists and anthropologists share their knowledge through tutorials and practicums.
For up-to-date details and more info visit 2015 Beachcombing Conference.


Notice: The news section of our site is being moved to our Facebook page to better deliver late-breaking news and information relevant to sea glass collecting.
Keep up-to-date on all things sea glass... like us on Facebook!
Sea Glass News on Facebook.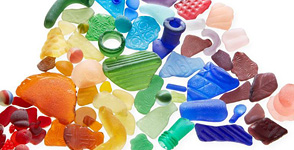 The Sea Glass Center wants to create a traveling sea glass museum but they need your help.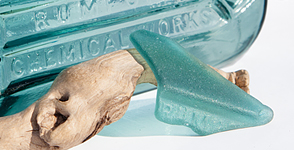 The month of November features an old teal-colored Rumford Chemical Works bottle shard found on the shores of Rhode Island.


Sea Glass Pendant
For a sea glass jewelry idea try a simple wire wrap pendant.

Find out what's happening! Here's a list of the scheduled sea glass festivals and events for 2012.
shopping
Pendants, earrings, bracelets and more using 100% genuine sea glass.
T-shirts with various designs stating your passion for sea glass.

The travel section of the Sea Glass Journal.

Recent: Prince Edward Island Sea Glass
Check out all the sea glass festivals that have been submitted to the Sea Glass Journal.

NASGA 2011 Festival
The sixth annual North American Sea Glass Festival, Long Branch, NJ.

Downloadable photos for use as wallpaper (desktop photo) on your computer.

Recent: Royal Ruby Red Sea Glass