See LARGER IMAGE
Sea Glass Photo of the Week
Orange You Lucky!
Dan Porter: I found this on a beach in Kenosha – it was a really cold day and I was just getting ready to quit. Looking into the sun something caught my eye.
I had just started collecting so I didn't think much about it other than I had to keep it because I had never seen anything like it.
I held it to the sun and it had different colors, not just orange, kind of yellow and green as well.
When I got home and put it next to everything I had collected at the time. It was then that I knew I had found something really cool!
Journal: Well Dan... for someone who has just started collecting you a very lucky indeed! That orange sea glass specimen is the find of a lifetime and you're just starting out! It looks like it could possibly be the remnants of a candle holder.
Now you will have the rest of your collecting days trying to top that one.
Good luck!

Take a look at some of the other fantastic photos submitted by clicking Weekly Sea Glass Photos.
Have a sea glass photo you would like to submit? Click Photo Submissions for details.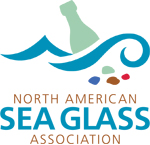 Posted November 14th, 2013
2014 NASGA Sea Glass Festival
Because there were concerns that the late October date would attract low attendance and an earlier date was not available in Maryland, the festival location and date has been changed to Cape May Convention Hall, Cape May, New Jersey on September 27 & 28, 2014.
Festival details coming soon.

Posted October 3rd, 2013
Sea Glass Photos at museum
In Celia Pearson: Glass Transformed, A Photographer Explores Sea Glass, see how Mother Nature has worked as a master recycler of glass objects discarded into the oceans worldwide. The exhibit, at the Franklin G. Burroughs-Simeon B. Chapin Art Museum, continues through December 29.
Admission is free, but donations are appreciated. Details at Art Museum.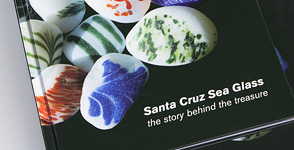 With Santa Cruz Sea Glass author Krista Hammond tells the story of some of the most exotic sea glass found in the world.
This month we look into the source of the half-domed sea glass shards occasionally found along the coastline.


Sea Glass Pendant
For a sea glass jewelry idea try a simple wire wrap pendant.

Find out what's happening! Here's a list of the scheduled sea glass festivals and events for 2012.
shopping
Pendants, earrings, bracelets and more using 100% genuine sea glass.
T-shirts with various designs stating your passion for sea glass.

The travel section of the Sea Glass Journal.

Recent: Prince Edward Island Sea Glass
Check out all the sea glass festivals that have been submitted to the Sea Glass Journal.

NASGA 2011 Festival
The sixth annual North American Sea Glass Festival, Long Branch, NJ.

Downloadable photos for use as wallpaper (desktop photo) on your computer.

Recent: Royal Ruby Red Sea Glass