The $1,000 grand prize winner of this year's festival.
Sea Glass Photo of the Week
The Grand Prize Winner!
Congratulations to the 2015 "Shard-of-the-Year" grand prize winner Earl Brown with his beautiful turquoise fresnel lens shard. Fresnel lenses were designed to capture more light from a single source than a similarly sized conventional lens. This allowed a light source to be visible over a greater distance and were most commonly used in lighthouses and other light sources where visibility from a distance was paramount.
Fresnel lenses are often colored to indicate a side or direction. Red indicates a port (left) side and green or blue is used for the starboard (right) side of a ship, train, plane or building.
For photos of the festival visit the NASGA Festival FaceBook page 2015 NASGA Sea Glass Festival.
View some of the past photos submitted by the sea glass community... click Weekly Sea Glass Photos.
Have a sea glass photo you would like to submit? Click Photo Submissions for details.



Posted August 26th, 2015
2015 NASGA Sea Glass Festival
The North American Sea Glass Association is holding the 2015 Sea Glass Festival in Ocean City, MD on August 29th and 30th, 2015.
For up-to-date details and more info visit 2015 NASGA Sea Glass Festival.


Notice: The news section of our site is being moved to our Facebook page to better deliver late-breaking news and information relevant to sea glass collecting.
Keep up-to-date on all things sea glass... like us on Facebook!
Sea Glass News on Facebook.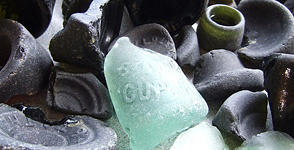 Cupar, Scotland resident collects old sea glass bottle shards with local history.
July's featured gem is a multi-colored sea glass specimen whose origins are possibly from a type of Czech glassware or tableware from the 1930s.


Sea Glass Pendant
For a sea glass jewelry idea try a simple wire wrap pendant.

Find out what's happening! Here's a list of the scheduled sea glass festivals and events for 2012.
shopping
Pendants, earrings, bracelets and more using 100% genuine sea glass.
T-shirts with various designs stating your passion for sea glass.

The travel section of the Sea Glass Journal.

Recent: Prince Edward Island Sea Glass
Check out all the sea glass festivals that have been submitted to the Sea Glass Journal.

NASGA 2011 Festival
The sixth annual North American Sea Glass Festival, Long Branch, NJ.

Downloadable photos for use as wallpaper (desktop photo) on your computer.

Recent: Royal Ruby Red Sea Glass