See LARGER IMAGE
Is it
Amberina?
Theresa, New Jersey: As the Summer of 2014 comes to an end I spent the last week of August at the Jersey shore and took every opportunity to search for sea glass. The beaches were untypically very rocky but there was a bounty of sea glass available so I powered through the stones.
In total for the week I found over 200 pieces of the typical browns, whites, some greens and even a few blue and tourquiose but then I came upon the "holy grail" of seaglass. Sitting by itself in an unusually sandy patch of beach was a 1" by 1" piece of red sea glass. I quickly grabbed it before the next wave hit thinking it had to be plastic but hoping it was not.
Upon closer inspection I could see it was glass and the red transitioned into orange and yellow. The most beautiful sea glass I have ever seen! I was so excited that I couldn't keep it to myself. I just had to share my prize with all the other sea glass hunters I passed on the beach to show it off and ask what they thought it could have came from.
Perhaps and old car light, perhaps Amberina?
Journal: That's a great find and a great question Theresa!
Amberina glass, a type of two-toned glassware, was first patented by Joseph Locke in the late 1800s. The red color was achieved by reheating the glass before it was allowed to cool. As some of you may have guessed already, a precipitate of colloidal gold is used in the glass to achieve the red color as in other types of red glassware.
Amberina is usually reserved for types of glassware where the two-toned effect is desired #150; more specifically, your fancier types of tableware. I've looked through many images of amberina glass on the web and did not found anything that resembles the ribbed pattern of your piece.
While this could be a type of tableware it looks more like a red glass lens, possibly from an automobile tail light. I have many shards from automobile tail lights and other red glass reflectors that show this type of two-tone color. The process for making such lights probably causes the outer edges of the glass to cool quickly causing a color shift to orange-yellow.
Maybe one of the other readers can shed some more light on the two-toned color found in tail lights and glass reflectors on the Sea Glass Journal Facebook Page.
More information on amberina glassware can be found by clicking Amberina Glass.
Thanks for sharing this interesting sea glass find!

Take a look at some of the other fantastic photos submitted by clicking Weekly Sea Glass Photos.
Have a sea glass photo you would like to submit? Click Photo Submissions for details.


sea glass in the news

Posted September 11th, 2014
Calling All Sea Glass Collectors!
NASGA is looking for collectors to display their treasures at this year's Sea Glass Festival. To get more information and reserve a space click Sea Glass Collectors.


Posted August 23rd, 2014
NASGA Sea Glass Festival 2014!
The 2014 NASGA Sea Glass will be held in Cape May, NJ on the weekend of September 27 & 28. It should be a grand time for all sea glass enthusiasts!
See a slideshow of last year's festival in Virginia Beach along with other sea glass festivals by clicking Sea Glass Slideshows.


Notice: The news section of our site is being moved to our Facebook page to better deliver late-breaking news and information relevant to sea glass collecting.
Keep up-to-date on all things sea glass... like us on Facebook!
Sea Glass News on Facebook.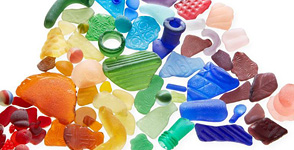 The Sea Glass Center wants to create a traveling sea glass museum but they need your help.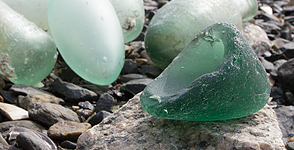 For the month of August we will look into the history of an unusual sea glass shard from a torpedo bottle produced in the middle half of the 19th Century.


Sea Glass Pendant
For a sea glass jewelry idea try a simple wire wrap pendant.

Find out what's happening! Here's a list of the scheduled sea glass festivals and events for 2012.
shopping
Pendants, earrings, bracelets and more using 100% genuine sea glass.
T-shirts with various designs stating your passion for sea glass.

The travel section of the Sea Glass Journal.

Recent: Prince Edward Island Sea Glass
Check out all the sea glass festivals that have been submitted to the Sea Glass Journal.

NASGA 2011 Festival
The sixth annual North American Sea Glass Festival, Long Branch, NJ.

Downloadable photos for use as wallpaper (desktop photo) on your computer.

Recent: Royal Ruby Red Sea Glass