See LARGER IMAGE
Sea Glass Photo of the Week
A Milky White Mystery
Jeanmarie – Cape Cod, MA:
I've been collecting sea glass in Cape Cod, MA for 10 years. One of the first pieces I ever found is the one pictured, it is what inspired me to collect.
I would love to know more about this piece. I have researched books and online but can't come up with anything.
The piece is 3-1/4" x 2" and is 1/4" to 1/2" thick. It is embossed 1942 and there is an "H" on the arch above the 1. It is clear but depending on the light, can have a pink hue. Any thoughts would be much appreciated! Thank you!
Journal: I love Cape Cod and anytime I can find sea glass it's an added bonus!
Doing a few quick searches online my best guess is that your specimen is a mid-20th century, quart-sized milk bottle which were usually made of clear glass and larger in size than your common soda bottles. Since you mentioned that it had the letter "H" embossed on it as well it could be a Hood milk bottle!
My I suggest going on eBay and searching for vintage milk bottles for some examples of this type. I have included a pic of the bottom of one such bottle on the right.
Thanks for sharing your interesting find!
Want to share your thoughts on this submission? Leave a comment on the Journal's FaceBook Page!

View some of the past photos submitted by the sea glass community... click Weekly Sea Glass Photos.
Have a sea glass photo you would like to submit? Click Photo Submissions for details.



Posted September 8th, 2015
6th Annual International Beachcombing Conference
Relax and have fun learning more about what you find on the shore. Coastal authors, artists, historians, geologists and anthropologists share their knowledge through tutorials and practicums.
For up-to-date details and more info visit 2015 Beachcombing Conference


Notice: The news section of our site is being moved to our Facebook page to better deliver late-breaking news and information relevant to sea glass collecting.
Keep up-to-date on all things sea glass... like us on Facebook!
Sea Glass News on Facebook.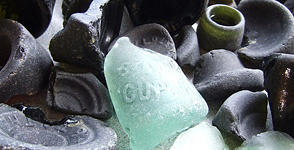 Cupar, Scotland resident collects old sea glass bottle shards with local history.
July's featured gem is a multi-colored sea glass specimen whose origins are possibly from a type of Czech glassware or tableware from the 1930s.


Sea Glass Pendant
For a sea glass jewelry idea try a simple wire wrap pendant.

Find out what's happening! Here's a list of the scheduled sea glass festivals and events for 2012.
shopping
Pendants, earrings, bracelets and more using 100% genuine sea glass.
T-shirts with various designs stating your passion for sea glass.

The travel section of the Sea Glass Journal.

Recent: Prince Edward Island Sea Glass
Check out all the sea glass festivals that have been submitted to the Sea Glass Journal.

NASGA 2011 Festival
The sixth annual North American Sea Glass Festival, Long Branch, NJ.

Downloadable photos for use as wallpaper (desktop photo) on your computer.

Recent: Royal Ruby Red Sea Glass