See LARGER IMAGE
Sea Glass Photo of the Week
The Thrill of Discovery!
Seamaiden, New England:
I wasn't five minutes at a favorite beach when my eye caught the stem of this tiny perfume stopper gleaming in the overcast light. I bent down to have a better look and felt that familiar thrill of discovering an exceptional treasure!
Some days feel like the perfect day of blessings showered down one after another and this particular day was just like that. This beauty was the first of several wonderful finds and is one of my most unique stoppers ever!
Journal: Methinks you spent a lot of time performing the "happy dance" that day Seamaiden. Thanks for sharing such an eye-popper sea glass stopper!

Take a look at some of the other fantastic photos submitted by clicking Weekly Sea Glass Photos.
Have a sea glass photo you would like to submit? Click Photo Submissions for details.


sea glass in the news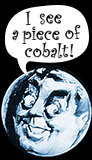 Posted August 8th, 2014
Super Moon This Weekend!
Here in the Northeast we are going to have a "super full moon" which will bring along the negative tides perfect for sea glass hunting.
A super moon occurs when the orbital path of the moon brings it closest to our planet. The moon will appear a little bigger and brighter during this event. And the one this weekend coincides with a full moon!
When planning a sea glass expedition remember to check the local tide chart in your area for the lower tides that occur during new or full moons!
See ya' in the surf!!!


Notice: The news section of our site is being moved to our Facebook page to better deliver late-breaking news and information relevant to sea glass collecting.
Keep up-to-date on all things sea glass... like us on Facebook!
Sea Glass News on Facebook.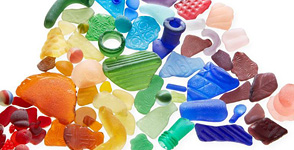 The Sea Glass Center wants to create a traveling sea glass museum but they need your help.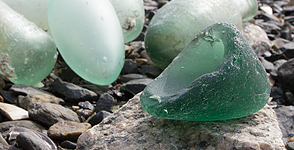 For the month of August we will look into the history of an unusual sea glass shard from a torpedo bottle produced in the middle half of the 19th Century.


Sea Glass Pendant
For a sea glass jewelry idea try a simple wire wrap pendant.

Find out what's happening! Here's a list of the scheduled sea glass festivals and events for 2012.
shopping
Pendants, earrings, bracelets and more using 100% genuine sea glass.
T-shirts with various designs stating your passion for sea glass.

The travel section of the Sea Glass Journal.

Recent: Prince Edward Island Sea Glass
Check out all the sea glass festivals that have been submitted to the Sea Glass Journal.

NASGA 2011 Festival
The sixth annual North American Sea Glass Festival, Long Branch, NJ.

Downloadable photos for use as wallpaper (desktop photo) on your computer.

Recent: Royal Ruby Red Sea Glass