See LARGER IMAGE
Sea Glass Photo of the Week
Heart Stopping!
Linda Muniz, CA: This is my collection of sea glass stoppers from many different areas of the world. Sea glass stoppers have been one of my most favorite and fascinating types of sea glass to collect. I cherish and love my collection that I am still adding to. This is just a small portion of my collection.
As you can see Sea glass stoppers come in many different shapes, colors, and sizes. Some more rare than others.
Seaglass Stopper Poem
These lovely sea glass stoppers have no doubt traveled the world from shore to shore being pushed by the roaring waves and deposited somewhere to display their beauty on sand, rocks, or sea.
If on your sea glass hunt you walk
a little slower and observe a little closer
you just might find the thrill
of the sea glass stopper.
It becomes a jewel.
By Linda Muniz
Journal: What a great display of stoppers Linda! I can't stop looking! And there is a red one as well?! You must be the envy of every stopper fan in the community.
Thanks for sharing your pic and your poem!
Want to share your thoughts on this submission? Leave a comment on the Journal's FaceBook Page!

View some of the past photos submitted by the sea glass community... click Weekly Sea Glass Photos.
Have a sea glass photo you would like to submit? Click Photo Submissions for photo requirements and details.



Keep up-to-date on all the late-breaking news and information relevant to sea glass collecting – like us on Facebook... Sea Glass News!


Posted May 11th, 2016
Santa Barbara Sea Glass and Ocean Arts Festival, 2016
UPDATE! Dates have changed from Aug 27th & 28th to Sept 10th & 11th.
The Carpinteria Sea Glass Festival is moving to Santa Barbara this year for their second annual festival, Sept 10th & 11th, 2016.
The application deadline and vendor registration deadline is May 31st 2016.
For more info visit Santa Barbara Sea Glass and Ocean Arts Festival.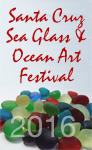 Posted March 2nd, 2016
Santa Cruz Sea Glass & Ocean Art Festival, 2016
Mark your calendars! The 2016 Festival dates are set November 5th & 6th. The artist application will be available April 1st! Celebrating eight years of sea glass and ocean fun!
For more info visit their Facebook page at Santa Cruz Sea Glass & Ocean Art Festival.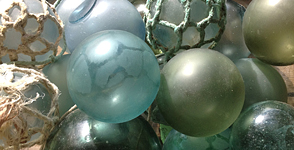 Read about the history, where to find them, and more about these wonderful glass orbs from the sea!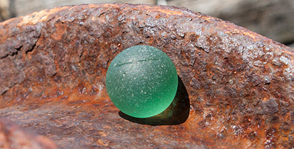 This month we'll take a look at a special kind of glass marble often found along railroad tracks and is commonly referred to as a railroad marble.


Sea Glass Pendant
For a sea glass jewelry idea try a simple wire wrap pendant.

Find out what's happening! Here's a list of the scheduled sea glass festivals and events for 2012.
shopping
Pendants, earrings, bracelets and more using 100% genuine sea glass.
T-shirts with various designs stating your passion for sea glass.

The travel section of the Sea Glass Journal.

Recent: Prince Edward Island Sea Glass
Check out all the sea glass festivals that have been submitted to the Sea Glass Journal.

NASGA 2011 Festival
The sixth annual North American Sea Glass Festival, Long Branch, NJ.

Downloadable photos for use as wallpaper (desktop photo) on your computer.

Recent: Royal Ruby Red Sea Glass