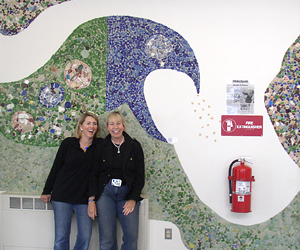 Carol Smith-Sloan and Holly Rader in front of their sea glass creation.
A Sea Glass Mural
A sea glass mural graces the visitor center at Spectacle Island, near Boston, MA
Two women, who became business partners in 2001, are finding artistic success and satisfaction in working with sea glass and other media, based on a folk art technique known as pique assiette (the French phrase translates to "stolen from the plate").
Located in Hingham, MA, All Cracked Up is owned by Carol Smith-Sloan and Holly Rader. Their work in sea glass, ceramic and other media results in fun, functional pieces and was most recently featured in Yankee Magazine.
One of their well-known projects is a sea glass mural commissioned by the Boston Parks Department, installed at Spectacle Island in 2007.
Story continues below...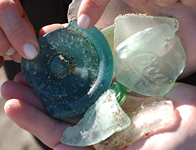 Some of the sea glass collected that was used in the mural.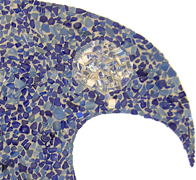 A detail of the mural showing a mix of cobalt and cornflower blue sea glass shards.
The mural, a tribute to a close friend who worked in coastal conservation and who had passed away, is a colorful wave-patterned mosaic.
Smith-Sloan and Rader, with the help of six or seven children, collected nearly 400 pounds of glass on the Island, then brought it to their studio to clean and sort. They transported some 10,000 shards of glass back to the Island to create the mural. The design was inspired by the logo for the Coastal Zone Management which "looked like a large tsunami wave."
"Spectacle Island has spoiled us," says Smith-Sloan. "It's the mother lode. When you walk on the beach, you can hear the clink, clink, clink of the sea glass turning in the surf."
"When you walk on the beach, you can hear the clink, clink, clink of the sea glass turning in the surf."
Originally a Boston resort destination in the 1840s, Spectacle Island fell into disarray and was the site of a horse rendering plant and later a city landfill for decades. It was redeveloped as part of Boston's Big Dig, which dumped tons of dirt from the city's massive highway relocation project. The island was then resurfaced with dirt, clay and topsoil, had trees planted, trails and buildings built, and even had a beach installed. The island reopened to the public in 2006 and is now part of the Boston Harbor Islands National Recreation Area.
Other projects from All Cracked Up include mirrors, picture frames, and mantels. They also work on larger installations, such as a crown-molding surround for a bathroom mirror. The mirrors are surrounded by shards of sea glass, glued in a grout base. For photos, see www.allcrackedupbiz.com.