Mermaid Glass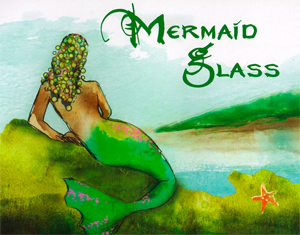 In Mermaid Glass we are led on a tale about the origins of sea glass that is quite different than the mermaid's tears yarn that has been spun through the years. This short story, which was inspired by the author's friend John Stailing, explains how a beach that was once the playground for the local children has become littered with sharp shards of glass.
The children were no longer allowed to play there.
Unbeknown to the town, this coastline was also the home to mermaids who took delight in the children's cries of joy and laughter.
Read how the mermaids brought back the children and the blissfulness.
The book is a self-published 5-1/4" x 11" work wonderfully illustrated in watercolor.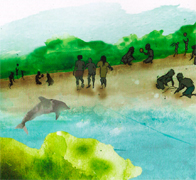 Read how the children are enticed back to the beach in Mermaid Glass.
The book is available online at www.Mermaid-Glass.com for $14.95 plus shipping.
From the publisher: While visiting my friend John Stailing in Northport, Nova Scotia in 1989, he invited me to go for a walk along the beach to collect sea glass. When I asked what the story behind this glass was, he said there wasn't one.
The first storyline of Mermaid Glass was written that summer and told over the years to my son Kyle. Finally, 3 years ago with heartfelt purpose, my friend Hal Mooney, a gifted teacher and writer helped bring the true magic to the story. Working with local artist Andy Stanleigh, the magic came to life through his illustrations. And with the endless patience, humor and grounding of Jared Olmsted, we put it to print this year, 2012.