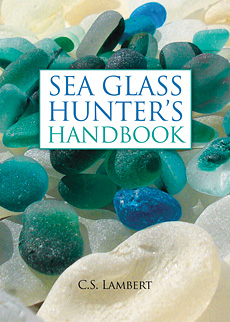 Sea Glass Hunter's Handbook
Author of Sea Glass Chronicles: Whispers from the Past, is coming out with a new book
Each year people the world over search out beaches, coves, and riverbanks in hopes of finding treasure. But for a growing number of them it's neither precious metals nor jewels they seek but, essentially, the trash of past generations: sea glass.
In her latest book, Sea Glass Hunter's Handbook ( Downeast, Nov 2010, $14.95 ) the "First Lady of Sea Glass", Carole Lambert describes her subject as "fragments of indeterminate glass and ceramic objects that have been in oceans or rivers for incalculable amounts of time and have taken on the scars of their untold voyages." Part art and part history, these frosted fragments are each one-of-a-kind and have the power to evoke precious time spent on the shore and a mysterious connection to the past.


In the first-ever book on the subject, Sea Glass Chronicles: Whispers from the Past, Lambert introduced the reader to the world of sea glass through her personal collection. In A Passion for Sea Glass, she explored the tremendous range of what creative people do with their extensive collection.
Now, in her "tell-all" sequel, Sea Glass Hunter's Handbook, Lambert reveals the secrets behind finding and identifying the best samples of these unique collectables. From great tips on useful tools and techniques and a glossary of related terms, to a list of some of the best sea glass beaches in the world, this book is an essential part of any collector's or would-be collector's library.