A Sea Glass Glow Candle Centerpiece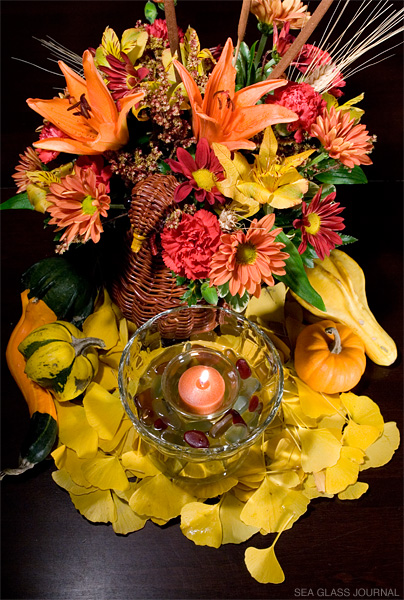 How-to make an beautiful Autumn sea glass glow candle centerpiece
For this Thanksgiving or Fall centerpiece try a candle holder that accents your Autumn sea glass colors.
How-to instructions shown below...


Step 1: Selecting Tools & Materials
The tools and materials required for this craft project are:
Votive Candle
One Glass Dish
One Glass Votive Candle Holder
And of course, sea glass.

Step 2: Adding Your Sea Glass
Place the candle holder within the glass dish and then start adding your sea glass.
TIP: You can add sand before the sea glass as a variation.

Step 3: Add Sea Glass to the Desired Height
Depending on the dish used add the sea glass to the desired height.
Insert votive candle.

Step 4: Enhance the Glow of the Sea Glass by Adding Water
Water can make the sea glass more translucent which can enhance the colors when the candle is lit.

And that's it!
Now enjoy your holiday centerpiece. As the candle burns down, the wick lengthens, casting a lovely warm glow through your sea glass.