Sea Glass Photo of the Week Archives
An archive of sea glass photos and comments submitted by readers for the Photo of the Week section.
Have a sea glass photo you would like to submit? Click Photo of the Week for submission details.

A before & after pic of a beautiful sun-colored amethyst sea glass gem found around Boston, Massachusetts.
A Treasure Transformed
Christina Kalustian: This beautiful lavender piece was found among the shores of Boston. It almost resembles a heart and is quite frosted. I had it made into a beautiful cuff bracelet by a local artist.
Lavender sea glass is rare and is always a treat to find among these parts of Massachusetts. Most of what we find along the shores is emerald and kelly green, amber, brown, white and coke bottle green. It's always nice when we find those non-traditional colors.
One can only wonder from where this type of glassware might have originated.
Journal: Thanks Christina for sharing the before-and-after photographs of your sea glass gem. It is always a pleasure to see the fantabulous creations the sea glass community transforms their treasures into.


Mark Wadiak shows off a spectacular red sea glass specimen.
A Hidden Treasure
Maryann Wadiak: Sometimes gems are found in the most unlikely places.
My husband Mark and I are enthusiastic sea glass collectors and we enjoy traveling to places near and far in the hopes of finding special treasures. One of the places we go to on the east coast is a waterway located near a retired trash dump.
There is a lot of rubbish to sift through with very few polished pieces. In addition, extra precautions are needed here due to toxins and safety hazards, making the search more laborious and tedious. For these reasons, it is not one of Mark's favorite places.
However, on our most recent excursion, Mark was rewarded with this delightful piece (along with a few other special surprises) causing him to be a bit more enthusiastic about future explorations.
Journal: Wow! That is a keeper!
The allure of sea glass collecting often drives us to explore places that are less than desirable, but sometimes for our efforts, we are rewarded with a special find.
Use prudent judgement, be safe and have fun!

Sea glass enthusiasts enjoying the festival in Cayucos, California.
Cayucos Is Californian for Festival!
On March 9th & 10th, 2013, sea glass craftspeople, sea glass jewelers, artists and collectors descended on the lovely coastal community of Cayucos, California for the third annual Cayucos Sea Glass Festival.
It was a fantabulous success and you can see some of the fun by clicking 2013 Cayucos Slide Show.

Sandy Sea Glass!
Billie Lopez: These pictures are of some lovely seaglass I found in Cocoa Beach, Florida after Hurricane Sandy. Sandy dumped loads of treasures on our beaches and I have combed almost daily since she came through finding more treasures in a week than I have in years.
The wonderful green sea glass heart was almost missed she is so tiny, but at the last minute she spoke to me. I was thrilled to have discovered this little gem, my first ever heart shaped piece of glass.
Journal: Big storms can transform a beach into a treasure trove of sea glass delights Billie. It's obvious you have a sharp eye being able to spot that tiny heart.
Here's hoping you have many days of bountiful sea glass collecting!

Another Monster!
Denise Irvine: I have just seen your picture of "The Largest Sea Glass Ever Found" and thought you might like to see an even larger piece.
My piece weighs 5.6 lbs! It is black and very dense so no light can penetrate, but it is probably brown from the colour of the external frosting.
I have previously found sea glass chunks – a teal piece weighing 2.0 lbs and a blue piece weighing 1.6 lbs – all on the same beach!
Journal: Unbelievable Denise! That is one monster sea glass gem! And to think that you also have others in teal and blue.
When it comes to sea glass hunting, you are certainly a big-game hunter!

Marble Muse
Susan Spicer-McGarry: Beach conditions in my area do not produce the beautiful sea glass sought by collectors. Sadly, other good collecting beaches in New Jersey have been lost to beach restoration projects. As a novice collector, it was disappointing to come home with bits of broken glass, only to see the hands full of incredible gems others were finding.
Rather than giving up collecting, I've learned to make the most of my few rare finds with a camera.
This marble was found rolling in the freezing February surf, and quickly named for the planet she resembles, "Venus" has been the subject of several photographic series.
The pink bottle neck (found prior to a restoration project) made the perfect stage for Venus' first photo.
I am having way too much fun with just one marble.
Journal: That's a wonderful artistic touch to the photograph Susan. Getting real close to a piece of sea glass often reveals qualities to the gem that are otherwise overlooked.
Keep up the great work!

Table Worthy Gems!
Dorothy Palmer: This is a table we had a friend build for us to show off the sea glass we collect each day walking the dog on the beach in Madison, Connecticut. We just moved here and have found some beautiful pieces of glass.
All visitors who come for the summer find glass on the beach and each night we determine whether the piece is "table worthy" or not. All the extra sea glass goes in glass vases on the book case. We now have 22 full vases of glass.
It is the most fun and relaxing thing to do and everyone enjoys helping look for that perfect piece.
Journal: What a great looking table Dorothy! And look at all those "table worthy" gems. It's wise to have a goose to guard your glass.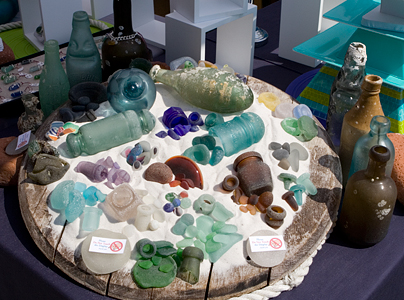 A Grand Decision!
NASGA: The North American Sea Glass Association has announced that the 2013 Sea Glass Festival will be held again in Virginia Beach, at the Virginia Beach Convention Center, over Columbus Day weekend, October 12 & 13, 2013.
Journal: NASGA has held the national festival in various locations of the US annually with the idea of promoting the joy of sea glass to as many people as possible. They have been very successful in this goal as the popularity of sea glass collecting has grown exponentially. As a result, more regional sea glass festivals are being held each year in locations all over North America. With the regional shows effectively spreading the word NASGA should now focus on a single location to host the national event.
Taking this course of action will provide NASGA more continuity in which to develop and grow the festival without being encumbered by finding a new location and date each year that won't encroach on other regional festivals. Among the benefits of this are having more time to effectively advertise the affair as well as giving exhibitors and attendees more time to plan for it.
After establishing an east coast festival they might then decide to try alternating yearly between the east and west coast.
Either way it should be a win-win for sea glass enthusiasts.

This turquoise beauty was found on one of the islands of Greece.
Turquoise Tranquility
Christeena Hockin-Minopetros: Eight years ago on one of the enchanted islands of Greece where my husband was a private Captain on a sailing boat for five summers, we met two young women who were native to the island.
These islands are small, and they had heard through the grapevine that we were sea glass collectors. They took me on a trek and I mean a trek, up and down the mountainside to a small cove that has become our favorite collecting spot till this day.
We have hauled pounds and pounds of incredible pieces of sea glass from this small cove, but this turquoise column looking piece is one of my personal favorites. Ah, but the sea glass quest continues always in search of the ultimate piece.
Journal: That's one beautiful gem you found Christeena! I would certainly hike a few miles in your shoes to find a piece like that. Thanks for sharing!

Fifty Shades of
G
r
e
e
n
Journal: When beachcombing enthusiast Gary de Blois goes to the NASGA Sea Glass Festival, he encounters other collectors who are happy, exuberant and just plain fun to be around. The unworldly, innocent Gary is startled to realize he wants to collect sea glass, despite these colorful gems being extremely difficult to find.
Unable to resist the hypnotic allure of sea glass, he gives in and explores the secrets and dark desires of this deeply moving obsession.
This hobby is not for mature audiences alone.

English Sea Glass "Brights"
Cyndee Welsh: These are my favorite "brights" from my trip to England. I find sea glass hunting in England much harder than than the California coastline but the bright colors are like no where else. Treasures like these make the long days searching worth the time.
Journal: Those colorful little gems would brighten up any collector's day, Cyndee! Thanks for sharing your catch with us.

A stack of sun-colored sea glass collected from the Long Beach and Absecon Islands.
Sea Glass Cairn
Caroline Harbat Baker: I have collected most of my pieces on the beaches of Long Beach Island and Absecon Island in New Jersey. The little treasures from the sea have provided me with so much fun and entertainment. I love creating things and taking photographs of the different pieces. The towers I have made are not held together by anything. I simply stack them carefully on top of each other to create a beautiful tower of sea glass.
Journal: That's a well-balanced stack of sun-colored amethyst sea glass, Caroline. A lot of that glass was manufactured before World War I, making them very old shards. Thanks for sharing!
To see more about this type of glass click Sun-Colored Sea Glass.

A large selection of sea glass from Eleuthera, Bahamas destined for a kitchen counter project.
Bahama Momma!
Cindy Baker: I love sea glass and want to show off my recent finds from Eleuthera, Bahamas. Notice a few black pieces at the top, a few light purple and some cobalt blue.
I am hoping to use my treasures in a kitchen counter top project.
Journal: That's quite the haul, Cindy! It looks like you will have enough to complete your project. Please send us a pic of the finished project.

A colorful collection of sea glass from the California coast.
A Myriad of Sea Glass Memories
Cyndee Welsh: This is representative of the beautiful colors of sea glass found on the California coast.
These cylinders took 12 years to fill with my favorite, completely flawless and beautifully shaped pieces of sea glass. 12 years of the best memories a gal could ask for.
Journal: Wow Cyndee! That sure is a wonderful windowful of colorful sea glass. It looks like it would take 12 years just to sort through that collection.

A happy multi-colored sea glass gem from the northeast of England.
Smiling at the World
Lisl Armstrong: All collectors are very involved with their sea glass. We all have that common thread in that we sort and re-sort our sea glass and become lost in the nuances of various pieces. Sea glass has tremendous contemplative qualities.
While I was ( perpetually ) sorting I had to pause and smile because I noticed that a piece was smiling at me! Sea glass calls on us to be playful and keeps us engaged in activities of child like exploration.
While beachcombing I often find myself imagining that sea glass comes from a beautiful lost world of some sort. So for the sea to have kicked a sultry smiling piece of sea glass my way is huge. This find is truly magical to me.
This lovely smiling sea goddess sits in my studio where I can enjoy her warm happy smile. We found this piece of sea glass in March of 2011 on a beach in England which is near the site of a Victorian era glassworks.
Journal: That's one happy piece of sea glass Lisl. Although sea glass has that intrinsic quality of bringing joy, to have a gem that is actually smiling back at you is truly special. Thanks for sharing a smile with all of us!

An amberina sea glass gem found at an old town dump.
Orange Marmalade Surprise
Cyndee Welsh: I found this amberina piece in Fort Bragg. It was on the cove that was once a dump site from 1906 through 1943. It was worthy of the "Sea Glass Happy Dance!"
Journal: That is one beautiful and vibrantly colored sea glass gem Cyndee.
You just never know what you'll find at Fort Bragg. That shard would even have someone as rhythmically challenged as myself dancing in the sand.

A very rare multi-colored sea glass gem with all the colors of the rainbow.
The
Rainbow
Connection
Robert Fuller: I wanted to share this rare multi-colored sea glass I found in the northeast of England. I found this beauty stuck in the sand. I shouted "Wow! Oh my God!" I showed it to everyone walking along the beach.
I thought it had all the colors of a rainbow in it so I decided to call it rainbow.
Journal: That is a really colorful sea glass gem you have found Robert. It does remind one of the rainbow and it appears you have plucked it right out of the sky!

A very rare turquoise sea glass gem from California.
A Turquoise Gemstone
Jillian Ford: I found this turquoise sea glass shard in Playa del Rey, California. I was on a birthday outing with my friends Arriona and Margaret. I found it on a day when the coast around the marina was being dredged, so it may have come from quite a bit of sediment.
"This was the best present I could have ever asked for, and it's just as if the ocean itself wanted my day to be special!"
Sea Glass Journal: Wow! That's a really nice turquoise colored gem. Consider yourself truly fortunate as that is a very rare sea glass color and might be old as well. Not too many types of mass produced glassware and bottles were made in this color as it was difficult to get consistent results.
One type of bottle that often did come in turquoise is the old seltzer siphon bottles popular in the first half of the 20th century. Your shard could very well have come from such a bottle.
Happy Birthday!

A pleasing still life of seafoam and light aqua sea glass gems.
My Bounty Lies Over the Seafoam
Jacques and Jessi of Connecticut are the first to admit they are different people with very different interests. In their search for common ground, they were delighted to find a shared love of sea glass collecting.
Jacques Bouchard: We look back at the pieces we fawned over during our first days of hunting, and we chuckle fondly. If we found these pieces today, we'd throw them back! We've learned over the years that sea glass hunting is definitely something that you improve on with time.
Sea Glass Journal: Hi to the both of you! I'm very happy to hear that you both share such enjoyment in collecting sea glass.
I also appreciate your amusement over sea glass collected in the "early years." But, like an artist who may retain some of their early works, I hold dear those shards that gave me such joy when I first stumbled upon them.

This old sea glass bottle neck was found a short drive from my home in New Jersey on April 8th, 2012.
A Sea Glass Bottle Neck
Tom Lynch: We planned our seaglass search to coincide with the suck-out low tide, during a full moon phase. As luck would have it, a steady west wind made the low tide push out even farther that day. At my girlfriend Kristin's suggestion, we concentrated our seaglass search on a half mile long stretch of beach that has produced a bevy of great shards during the past several months. The area has given up a half dozen 1800's to early 1900's era bottle tops, two bottle stoppers, 100-plus year old bottle bottoms and many colorful shards. Kristin's hunch paid off!
We worked the stretch of beach methodically, collecting a lot of nicely worn shards, in aqua, white and green. While working a 30 foot long cluster that was comprised mainly of pebbles, shell fragments and whole snail and scallop shells, a black shape at the waters edge, caught my eye. It was a bottle top with a cork intact. I reached down and grabbed it, and excitedly showed it to Kristin. As she looked at it, I continued to scan the area. I spotted an aqua shape, about 20 feet from where I found the black glass. I walked over and discovered a half buried, nicely worn, completely intact bottle stopper!
Sea Glass Journal: Congrats to the both of you on what appears to have been a very succesful hunt! What a nice old example of a sea glass bottle neck... and with the cork still attached! It appears to have been a mold blown bottle with an applied top dating from the mid to late 1800s. It was probaly used to keep wine or ale protected from the sun light.
That's a "corker!"

Place your cursor over the image to turn on the blacklight and watch the sea glass glow.
Sea Glass A Glow-Glow
Jacques Bouchard: My fiancee and I have in our collection a few marbles, bottle stoppers, red pieces, and a few of those unique "treasures" including this glow-in-the-dark yellow-green piece, about the size and shape of a Cheetos Puff, that you'd likely be amused by.
Sea Glass Journal: Yes, Jacques! I am always amused and fascinated by vaseline glass and got a real kick out of your "Cheetos Puff." The color and glow of this type of glass is due to the presence of uranium — not enough to cause any harm to a person, but definitely enough to make for some fun special effects. Place your cursor over the image to turn on the black light. Thanks for submitting this unique specimen!
To read more about uranium sea glass click Vaseline Glass.

End-of-day sea glass collected by Robert Fuller around the Northeast of England.
At the End of the Day...
Robert Fuller: Here is a selection of the sea glass I can find on a daily basis. I started collecting mid-September of last year and have a fab collection of sea glass. I love the multis for colour but I have others that are just as beautiful. I just love sea glassing and so does my dog Lucy!
Sea Glass Journal: Wow Bob! You sure are a lucky person. Most sea glass hunters just dream about collecting such a haul on a daily bases.

A sea glass shard from the side of an old case gin bottle.
The Case of the Sea Glass Shard
Becky Rice: Several days ago I found this piece of olive sea glass about three miles south of Sebastian Inlet on Florida's East Coast. I have scavenged this same stretch of beach for 4 winters now and this is an unusual find for me. After reading your article on January's shard of the month, I wonder if I haven't found a piece of a case gin bottle. The angle that it contains is just less than 90 degrees, with a slight curve where the rounded edge is. It appears to be a man made piece. As you may know, this stretch of Florida's coast is known as the Treasure Coast due to a number of early 18th century shiwrecks.
Sea Glass Journal: That's a very nice specimen you have there Becky! It appears to be a side section of a bottle, possibly a case gin. It definitely is not a bottom section as old bottles are much thicker at the bottom. It has a similar pitted surface texture indicative of the old case gin shards I have in my collection.
Case gins have been made for quite a long time, as far back as the mid-1600s, but it is difficult to determine with accuracy how old your piece as it lacks any unique diagnostic features that would assist in narrowing the range of its age.
It is a wonderful and rare piece nontheless and you should consider yourself very lucky having found this sea glass gem.