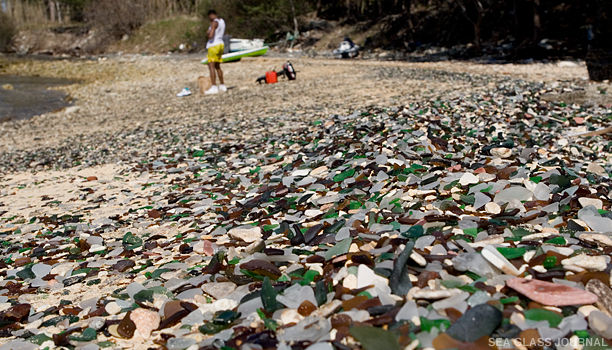 Bermuda's Dockyard Beach, once the dump for the naval yard, is now a well-known sea glass collecting spot.
Bermuda's Best Sea Glass Locations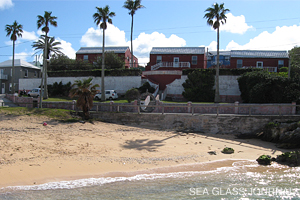 Alexandra Battery Beach is a small cove along Barry Road that yields much interesting and old sea glass.
The two "must-see" sea glassing spots while in Bermuda
Sometimes we just don't have enough time off to really enjoy our well-deserved vacation. If, while in Bermuda, your sea glass collecting time is limited, here are the two locations you have to visit. While the amounts of sea glass will vary on the time of year and surf conditions, they will always yield enough treasures to make it a successful hunt.
Story continues below...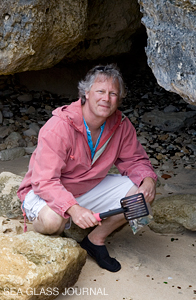 One of the caves located at Alexandra Battery Beach that gathers sea glass.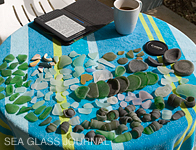 Few things in life are more relaxing than sorting the previous day's haul of sea glass while enjoying a cup of hot coffee.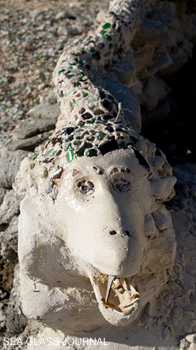 The locals have worked with the sea glass found in abundance at the Dockyard Beach to created whimsical and fun objets d'art such as this sea glass serpent.
The Dockyard Beach:
Also known as Convicts Cemetery beach, this beach is located on Bermuda's west coast and near the site of an old Naval dump. This rocky beach is located behind the Albert's Row Apartments, four turquoise-colored buildings. The beach name comes from the fact that convicts who helped build the Royal Navy Dockyard were buried at a small cemetery here. It's located on Cochrane Road, about one mile south of the Dockyard, making this an especially convenient site for cruise visitors since the ships dock there. You can take bus #7 or #8 or cab from the Dockyard.
Walk around the back of the apartments towards the water, and down a small staircase. You will find a beach totally covered in sea glass. Some of it is well conditioned, and some a little rough, but it's a great place to spend a few hours.
Locals have created picturesque sea glass art so keep an eye out. Note: the Bermuda government is planning to raze Albert's Row and replace it with new, affordable housing, so we are not sure how long access will be available here.
The Bermuda government is planning to raze Albert's Row and replace it with new, affordable housing, so we are not sure how long access will be available here.
Alexandra Battery Beach:
This small beach is located on Bermuda's east coast at the site of an 1860s fort. Take the bus to St. George's on the west coast of Bermuda and walk about 1 mile — heading uphill thru the village, past the old church, and out towards St. Catherine's Fort. Facing the water, continue walking to the right of the fort.
There are several beaches and coves along here worth checking. After you've walked about a half mile keeping along the coast, you will reach Alexandra Battery. There is also a small cave here to explore if you're adventuresome! The water here is shallow and it's a good place to snorkel during low tide for glass that's a little further out from the beach.
We found a good selection of nicely worn sea glass, including two beautifully weathered seafoam stoppers during our trip. Note: depending on the time of year, there is a seasonal ferry from Hamilton that goes to St. George's, as an alternative to the bus.
Other Bermuda sea glass articles...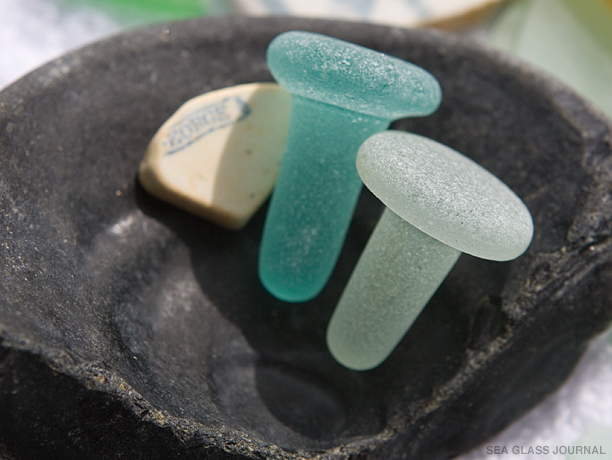 Sea glass stoppers found at Alexndra Battery Beach, St. George, Bermuda, along with very old, black sea glass that probably contained rum or beer long ago.