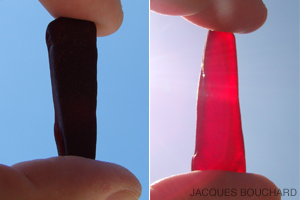 As the image demonstrates, when backlit by the sun, a dark glass shard can reveal a very special sea glass find.
Finding Sea Glass 101
Continued from page 2, Finding Sea Glass 101
Take your time, and move slowly – even if there's a lot of beach to cover. Let the sea glass "jump out" at you as you stare at the sand, and try to keep the sun at your back. In particular, keep on the lookout for black sea glass, as pieces of this rare color are often mistaken for rocks. If you've begun to pass up pieces (brown, green, and clear, for example), make sure they're really the color you think they are.
A classic example – I almost passed up on a beautiful red shard because I thought it was brown. But when you hold it up to the light, its beauty shines out (see photo at right).
Never Stop Looking for New Beaches
Jessi and I have made it our goal to find every color shown in our Pure Sea Glass Identification Card Deck[1]. For the longest time, we had every color but yellow, pink, and orange. And what was frustrating for us was that some pieces that are considered very rare, such as red pieces, bottle stoppers, or marbles, were turning up fairly easily. And easier pieces, such as white milk glass or pottery pieces, were nearly impossible to find.
Story continues below...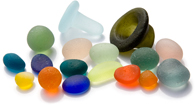 Then, one day, we went to Boston, and started looking on a beach in the area. Over the course of the day, we found three beautiful pieces of pink, two yellows, and handfuls of white and pottery – and a few pieces of sea-worn china dolls to top it off! We've been to the beach many times since, and while similar finds are not uncommon, we never find red or marbles there! Furthermore, the glass we found there had a completely different look to it – the polish the sea had given it was entirely different than the glass we'd found at "our" beach.
What we've learned over the years is that every beach has its own character, and that the selection of colors you're likely to find can vary widely.
What we've learned over the years is that every beach has its own character, and that the selection of colors you're likely to find can vary widely. By spreading your beaches out, you can find a more varied and diverse selection of pieces, with different types of polished looks.
Sea Glass Hunting as a Hobby
Hunting for sea glass has become a favorite pastime over the years for Jessi and I. We've built up such a collection that we have bottles of colorful sea glass spread throughout our house – adding beauty and reminders of great memories everywhere.
If you're just starting out, we have these words of advice for you: be patient, be persistent, and remember to look up and enjoy the beautiful beach you're visiting! Few hobbies are as relaxing or as peaceful as this. Happy hunting!
About the Author – Jacques Bouchard is a divergent thinker, former English teacher, sea glass hobbyist, and the Internet Marketing Manager at Onward Healthcare – a travel healthcare agency providing travel nursing jobs throughout the United States. He also manages Onward MD, providing locum tenens jobs for physicians and advanced practice. Find more of his writing on the Onward Healthcare Blog!

REFERENCES:
1. Pure Sea Glass Identification Card Deck